From amazing restaurants to top fashion brands, check out some of the best spots in Dubai to enjoy great shopping and tasty food.
Posted on
19 February 2017
|
Last updated on 14 January 2020
Dubai is known for having an immense variety of shopping and food options that cater to every taste. People come from all over the world to enjoy impressive sights as they shop and dine. It's truly a unique experience and it's impossible to get bored in this Emirate. 
Here are some of the best places that you must experience while here!
1. Global Village
Global Village in Dubailand is regarded as the largest destination for tourism, leisure and entertainment activities in all of Dubai. An attraction to citizens around the world because it incorporates impressive cultural products representing each region around the globe. The retail outlets are endless with traditional cuisines, handicrafts and fashion brands for purchase.
International pavilions consist of the Middle East, North Africa, Europe, America, Africa and South Asia regions. The National Arts & Life rated La Poutine, Bab Tuma and Al Dahhan Restaurant within its top 10 restaurants to experience while visiting.
2. Souk Madinat Jumeirah
Photo: jumeirah.com
 
Souk Madinat Jumeirah is a massive resort recognised for its traditional Middle Eastern architecture and design. A tribute to Arabian heritage, visitors have access to entertainment performances and shopping outlets that cater to visitors seeking luxury brands or traditional fashion. Gourmet restaurants include over 24 international cuisines: Arabic, French, Persian, Indian, Italian, Asian, American, Russian and Belgian.
SEE ALSO: Top 10 Dubai parks
Local residents and tourists can admire the Souk's delicately designed construction along with an array of outlets that cannot be completely visited in one day. The bazaar offers traditional souvenirs for purchase and is excellent for leisure walking. Experience entertainment performances at Madinat Theatre, boat tours on the canal and an impressive nightlife.
3. Atlantis
Atlantis, The Palm offers world renowned shopping, gourmet and entertainment options. Since its founding in 2008, several restaurants have been recognized in multiple food and beverage awards.
Restaurants that received international recognition include Saffron Asian Buffet, Levantine and Ossiano Seafood Restaurant. Atlantis' fashion outlets welcome locals and tourists seeking quality fashion brands.
4. The Walk- JBR
Photo: itscamilleco.com
Jumeirah Beach Residence is Dubai's finest outdoor tourist activity perfectly located by the Persian Gulf coast. Visitors of The Walk at JBR will witness street paintings, creative art presentations, a water park, yoga classes on the beach and more. Completed in 2007 by Dubai Properties Group and opened in 2008, The Walk extends along the beach and is every shopper's dream with the best international brands in fashion available.
SEE ALSO: Dubai top 10 hidden treasures
Visitors can enjoy brands such as the famous Parisian fashion brand Crea Concept, Hamac for beach boutiques, Elisabetta Franchi for Italian clothing and the French brand L'OCCITANE for fragrances, skin care and men's care. An assortment of high-end and casual restaurants that are a necessary destination when visiting JBR.
5. Sheikh Mohammed bin Rashid Blvd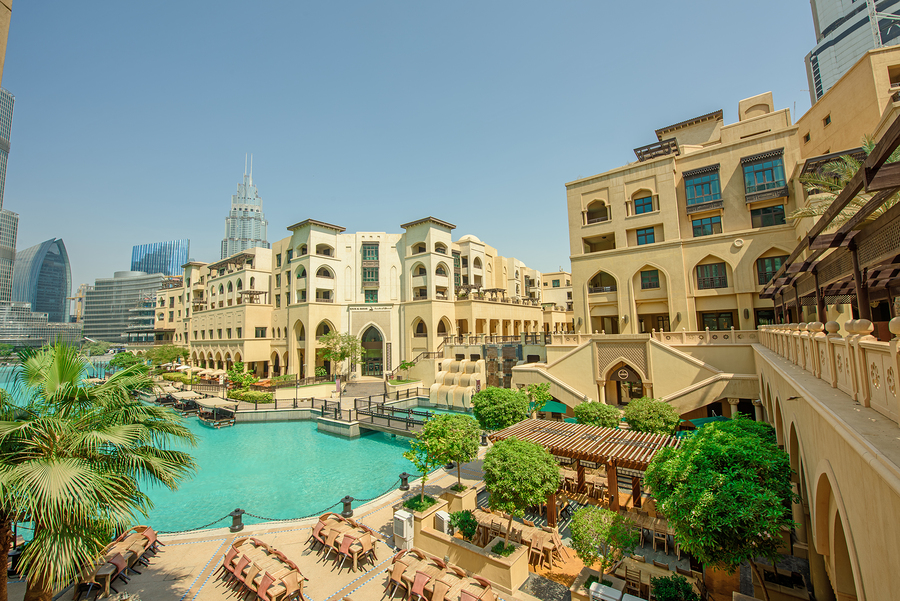 Named after the Ruler of Dubai, His Highness Sheikh Mohammed Bin Rashid Al Maktoum, Sheikh Mohammed Bin Rashid Blvd is a must see whenever visiting Downtown Dubai. The Boulevard is surrounded with Dubai's iconic features: the Burj Khalifa, the world's tallest building, the Dubai Fountain and a top destination for world class gourmet and fashion outlets.
SEE ALSO: Dubai top 10 annual events
Highly popular restaurants which deserve recognition include Kris Kros, specializing in American, Asian and Middle Eastern cuisine, Mizu Restaurant Japanese restaurant and Maison Bagatelle, the ultimate destination for French cuisine lovers. Dubai Mall is the world's largest mall with high-end fashion brands that cater to millions of visitors annually. 
Souk Al Bahar (market of the sailor) is a prominent shopping destination on the Boulevard with quality shopping, gourmet restaurants and dessert. The Souk's architectural theme is rooted in Arabesque design with natural stone corridors, high archways, dim lighting and Middle Eastern linear patterns.
6. City Walk
City Walk's superlative architecture and venues is attracting tourists in Dubai. Developed by Meraas, City Walk consists of residential buildings adjacent to outstanding gourmet and shopping outlets that cannot be found anywhere else in the UAE. Fashion brands include Belgium's Antwerp, New York Label Rag & Bone and Italian label Flavio Castellani.
SEE ALSO: 5 places you can enjoy an Abra ride in Dubai
Superb shopping outlets which are present in the UAE include British brand Cath Kidston, Armani Exchange and Coach. The diversity in gourmet outlets is endless, ranging from high end to casual restaurants. World renowned dessert and pastry shops include New York's Serendipity, Bubo, Farzi Cafe and Brass Cafe. City Walk's website is an excellent reference point before planning your visit.
7. Mall of Emirates 
Photo: dubaiafrika.com
Mall of Emirates welcomes 42 million visitors annually with its unique indoor ski resort that fascinates ski enthusiasts of all ages. Totaling 255,489 square meters in retail space, there are 630 international stores.
The mall's shopping outlets consists of 80 esteemed international brands situated in the Fashion Dome and the Level 1 Luxury Wing. Brands Louis Vuitton, Chanel and Prada are available. The mall features the notable Al Halabi restaurant which is a fusion of Lebanese and Aleppo style cuisine.
8. Dragon Mart
Photo: travex.org
Experience the largest market selling Chinese products in the Middle East. The Dragon Mart is a dragon shaped 150,000 square meter building with approximately 4,000 shops selling retail, home improvement supplies, tea, cosmetics, textiles, clothing and a variety of cuisines. 
The Dragon Mart is an exceedingly popular destination for its hypermarket, cinema, food court and biweekly concerts featuring the region's top pop stars. Lebanese pop star Mariam Fares was the first performer in a series of concerts taking place every other Friday. Within the food court, The Yellow Chilli by Sanjeev Kapoor is an Indian restaurant that is a highly recommended dining destination.
---
About the Author:
Raniyah is an enthusiast blogger who writes about diversified topics, including fashion, lifestyle, travel, food and real estate.