You've got your UAE driver's license, now what? Here's the process to getting a car in the emirate
Posted on
30 July 2013
|
Last updated on 14 August 2017
Although the process seems lengthy, it is actually much faster and simpler than you may think. To help you, we have created our very own guide to buying a car in the UAE... You're welcome! 
The paperwork
Before you can dive deep into the world of cars you need to make sure you have all the right foundations to buy a car. Make sure you have the following paperwork:
Passport and a copy of it (make sure it's not expired)
Valid UAE residency and a copy of it
Valid UAE or GCC driving license
Salary certificate from your employer
No Objections Letter from your employer - this is not always required, get one just in case 
The budget 
We recommend you set yourself a budget. This will help narrow the process of which type of car to choose. Also make sure that insurance costs are covered in your budget. The average cost for annual insurance in Dubai is around 5% of the car value.
SEE ALSO: Traffic fines and the Dubai Tram
The right car 
When looking for a new or used car to purchase, there are few ways to choose from: 
Online
From here you can see high-definition pictures, exact specifications and sometimes a video of new and used cars for sale from car dealers in Dubai and other emirates. You can search with highly specific options and then call the dealer directly or send an email.
The Dealer
Head down to the nearest dealer you may have seen an advert for or heard about it from a friend or work colleague. 
Print Media
Newspapers and print magazines also contain vehicle advertisements, usually with few pictures and less specifications with contact details of the seller.
New Car
If you choose to buy a new car, give the dealer a ring or email them to check that they have your preferred car in stock, double check their location and arrange a time to meet a sales representative. Once arranged, proceed to the dealership. As long as you have a UAE or GCC driver's license you can go for a test drive. Two methods are available for payment; cash in hand or financing over the years. Dealers have bank representatives working in-house to make the process as smooth as possible. If you are buying a car new during Ramadan or Eid, great deals pop up ranging from discounts to extended warranty to free registration and insurance.
Second Hand Car
Once you have found your desired second-hand car, contact the seller via email or phone and arrange a time to view the vehicle, double check where the dealer is and what their timings are.
 
It's a good idea to check the car out before agreeing to anything, and ask for the service history (if there isn't any, it's a risk!).
Also, ask the seller if there is any warranty remaining. If you know a trusted mechanic, it's never a bad idea to ask them to come down with you to check the vehicle or drop the vehicle by, if the dealer agrees.
 
Second-hand cars are usually bought with cash only, unless it's from a dealer and the car is of a certain age (usually 5 years or newer).
SEE ALSO: Registering a minor road accident
In such case, finance options are often available from the dealer. Paying by cash can result in a discount if you barter with the sale. Regardless, if you really want to go with car financing, your bank will often have a solution.
Insurance
Now that your desired car has been purchased, it's time to have it insured via a company that the Roads and Transport Authority (RTA) recognizes.
The minimum level of insurance one can get is third party.
Third party insurance covers property damage caused by the insured vehicle, death or injury to any third party or person, fire if it's not caused by the owner and if the vehicle is stolen.
Fully comprehensive insurance covers exactly the same as third party as well as covering the driver and depending on what packages are available 24/7 roadside assistance, car rental during damage repair and more are provided.  There are also additional cover which insures your vehicle in other GCC countries.
SEE ALSO: The affects of car washes
Note that if you are buying a car which is ten years or older, some insurance companies will not provide you fully comprehensive insurance.
Also note if you have had your licence for under a year or you're under the age of 25 you cannot apply for fully comprehensive.
Insurance kiosks can usually be found within RTA buildings, most if not all insurance companies can arrange an insurance policy online or via the phone. The following documents are required in order to take out the policy:
Valid driving license
Passport with residency visa (copy is useful as well)
Vehicle registration details (the one you just purchased)
No Objection Letter NOC from your employer (in some cases)
Insurance policies are valid for 13 months or 12 months as standard and a one-month grace period given by the RTA.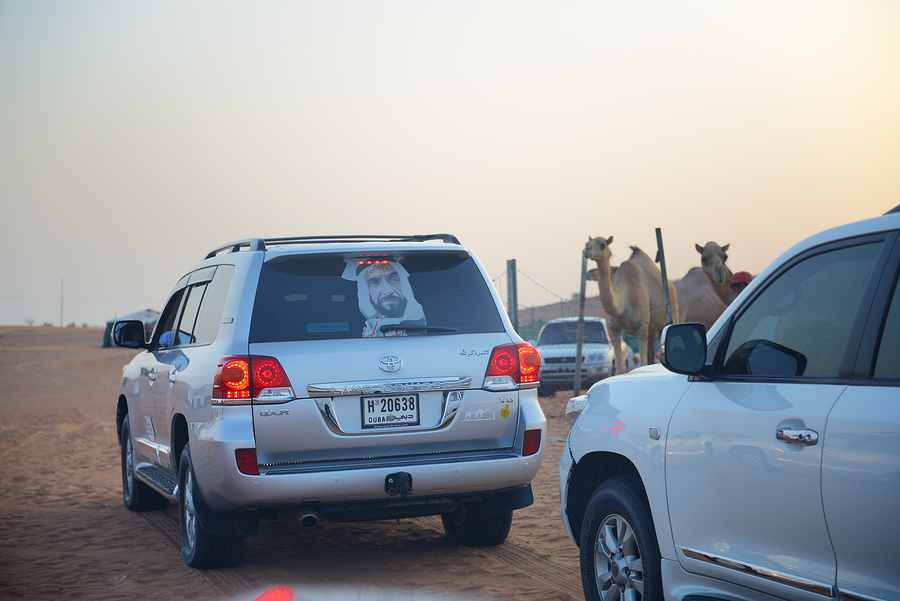 Registration
With insurance out of the way, it's time to have the car registered. If you are buying a brand new car, the dealer will take care of the process for you. If you are purchasing a second-hand vehicle, the seller must be present or a sale deed from said person must be shown.
Documents required for registration:
Passport (copy and original)
Driving license
Insurance policy
If the car is financed, an NOC and documents from the place of finance
Old registration card (used car only)
Original license plates (used car only)
SEE ALSO: When to use your indicators
 
Once you have all the required paperwork, the vehicle must be tested by the RTA to make sure it's allowed to be driven on the roads and conform to certain emission outputs:
Make your way to the nearest Dubai Traffic Department, Tasjeel Eppco, Shamil Emarat or Belhasa Wasel Car testing.
Fill in the mandatory forms (some places will do this for you).
Have an officer check to see if there are any fines on the vehicle. If any are present they must be paid. Fines can also be checked online, if you know the plate number.
Once all of this is completed and inspection is approved, you will proceed inside for your registration card to be printed.
You'll be given the card with the same number plates to put at the front and back of the vehicle and a small date sticker to be placed on the plates. 
If the previous owner owns the right to number plates, the RTA will issue you with a randomly generated plate.
If you would like to
purchase your very own personalized plate you can for a fee
. This plate will be yours unless you wish to sell it. The RTA has a variety of these plates on offer and hold auctions frequently, prices range from 250 AED all the way to 50 million AED. Number plates come in two sizes short and long each costing 420 AED and 470 AED respectively. Arabic only plates are available on request and new Dubai logo plates are available for 25 AED for short and 35 AED for long plates.
Registration on vehicles lasts 12 months with a one-month extra grace period, bringing the total to 13 months. Registration must be done annually.