Posted on
25 February 2013
|
Last updated on 11 December 2017

 Living in Sharjah
Sharjah is the third largest of the seven Emirates and the only one to have land on both the Arabian Gulf Coast and the Gulf of Oman.
The Emirate is filled with fun activities for the whole family. Here one can picnic in one of the gorgeous parks, play on the beach, explore many heritage sites and museums and experience the natural beauty of the desert, mountains and seas. One can also be transported to the past at one of Sharjah's old souks or shop like a diva at one of the modern shopping malls.
Sharjah is the only "dry" state in the United Arab Emirates. This means that one will not find pubs, bars and nightclubs. However, there is an array of hotels and restaurants where one can enjoy a fulfilling mean and a freshly squeezed juice. There are also many sporting activities in Sharjah, ranging from dune bashing to horse riding, from jogging to shooting. It is a wonderful community for expats with children because there is always something new. If you need a change of scenery Dubai is just fifteen minutes away (depending on traffic).
There are three towns on the outskirts of Sharjah, these are:
Kalba is an exclave of the emirate of Sharjah lying on the Gulf of Oman coast north of Oman and south of the Emirate of Fujairah. Khor Kalba (Kalba Creek), a mangrove swamp, is located further south of the town. There are not many resident expats living in Kalba but there is one school to accommodate the younger children, The English School of Kalba.
SEE ALSO: Dubai lessons you learn the hard way
Dibba Al-Hisn is an enclave of the emirate of Al-Sharjah. It is bordered by the Gulf of Oman from the East, Dibba Al-Baya from the North, and Dibba Al-Fujairah from the South. It is also geographically part of the Dibba region. It is the smallest in size among the other Dibbas. It is mostly known for the its fish market and the ancient fortress, where it got its name from. Also known for its high density population relative to the other Dibbas. There is a community college of the American University of Sharjah and Alkhalidya Secondary School.
Khor Fakkan (or Khawr Fakkan) is a town located along the Gulf of Oman on the east coast of the United Arab Emirates (UAE). The town is set on the picturesque bay of Khor Fakkan, which means "Creek of Two Jaws".
Khor Fakkan belongs to the emirate of Sharjah but is geographically surrounded by the emirate of Fujairah. It is the largest town in Sharjah and is the site for the expansion of a container terminal and port. Wadi Wurrayah is a popular natural beauty site located some 15 kilometres inland from Khor Fakkan. Accessible by four-wheel drive vehicle, the wadi offers a deep all year round pool with a seasonal waterfall.
Sharjah also contains the Rub Al Khali, or "Empty Quarter" in the southwest, which has sand dunes as high as 300 meters. Sharjah also has two islands off the eastern coast, Abu Mousa and Sir Abu Nu'air.
---
The Climate
---
The climate ranges from mild to hot in the emirate of Sharjah depending on the time of year. There are no seasons as such and summer and winter are generally discussed in terms of the climate. Summer is from May to September and temperatures can get as high as 50 degrees Celsius, luckily most places are well air conditioned. The more pleasant time of year, or winter is from October to April and the temperature ranges from 18 to 30 degrees Celsius. This is the time of year that most people are enjoying the outdoors. There is not much rainfall in Sharjah, however rain mostly occurs from January to March. The summer months can get uncomfortably humid.
---
Dress Code
---
Sharjah is by far the most conservative of the seven Emirates and enforces a strict dress code for both men and women. It is important to be aware of the local culture when in Sharjah. Note that men and women have to remain covered when they're on a public beach as well. Dress code violators have been known to get arrested and fined. Heres are the general guidelines regarding the dress code:
Ladies should always wear tops that are not too tight. Their arms should be covered until the elbows and their legs should be covered past the knees.
Unacceptable:
Clothing that exposes the stomach and back.
Tops that do not cover the arms to at least the elbows.
Shorts or skirts above the knee.
Tight and transparent clothing that describes the body.
T-shirts with rude language or swear words.
SEE ALSO: 20 things you experience only in Dubai
Gentlemen should be aware of the pictures, logos and slogans on their clothing, they should not contain rude pictures or words. Their t-shirts should always cover their shoulders and their shorts should always cover their knees.
Unacceptable:
Very short pants in public or commercial places like malls and public offices.
Chest nudity.
T-shirts with rude language or swear words.
---
Accomodation 
---
Many expatriates who work in Dubai choose to live in Sharjah and commute due to the fact that the rents in Sharjah are much cheaper than rents in Dubai. The accommodation varies from studio apartments to four bedroom flats. There are also beach side villas with gardens for rent. It all seems too good to be true? Well there is a catch, even though Sharjah is a mere fifteen minutes from Dubai on traffic free roads the congestion during peak times is so severe that it sometimes takes commuters up to two hours to reach their place of work.
Al Nahda area borders Dubai, and half of it is in Dubai. It is a popular place for singletons with small and relatively inexpensive apartments.
---
Education
---
Sharjah has the educational facilities to cater to all students living there. This means that there is not need for parents living in Sharjah to travel to Dubai in order for their children to go to school. Sharjah has schools from Nursery to University levels. The high standards of UAE education are maintained.
Primary & Highschools
Victoria International School of Sharjah (VISS)
The Victoria International School of Sharjah (VISS) was founded in 2007, the result of a strong, long term relationship between the governments of Sharjah and the State of Victoria in Australia. Both governments prioritise the learning and growth of all. His Highness Sheikh Dr Sultan Bin Mohammed Al-Qasimi, Ruler of Sharjah has great admiration for Australian (especially Victoria's) highly successful curriculum, as well as the methods Australian teachers use to encourage children to learn and think. In addition he was keen to use the way the State of Victoria designs schools for the 21st century- using flexible learning spaces and the latest technology to build a school with the most outstanding facilities possible. His Highness has been pleased to be able to make this available to young people living in the UAE. VISS is to be a lighthouse school for improvements in Sharjah schools. The school is supported by both the Government of Sharjah and the Victorian Curriculum and Assessment Authority.
Phone: +971-6-599-3231
Website
American Community School Sharjah                                         +971-6-5227583             US
Australian International School Sharjah                                       +971-6-5589967            Australian
Brilliant International Private School                                            +971-6-5442420             UK
Choueifat Sharjah                                                                      +971-6-5582211             Choueifat
Delhi Private School Sharjah                                                      +971-6-5345352             Indian
GEMS Millennium School Sharjah                                              +971-6-5358176             Indian
German School Sharjah                                                             +971-6-5676014             German
Gulf Asian English School                                                         +971-6-5340000             Indian
New Indian Model School Sharjah                                              +971-6-5228035             Indian
Scholars International Academy                                                 +971-6-5355033             UK
Sharjah Autism Centre                                                               +971-6-5243131             Special Needs
Sharjah English College                                                             +971-6-5589304             UK
Sharjah English School                                                              +971-6-5589304             UK
Victoria English School                                                             +971-6-5227770             UK
Universities
Skyline University Colle                                                              + 971-6-5441155

Sharjah Higher Colleges of Technology                                        +971-6-5585- 333/ 222
American University of Sharjah
+971 6515 5555
---
Getting Around
---
Taxi
Sharjah Public Transportation Corporation, as the governmental body, is organizing and supervising the operations of taxis in Sharjah Emirate. Sharjah taxi service is provided through franchise companies, which obtained the license to operate taxi vehicles in Sharjah Emirate; to cover all parts of the Emirate and cities, including shopping centres, residential areas and airport.
Sharjah Taxi
Area Of Operation: Sharjah City, Eastern Region
Tel: +971-6-568 8444 
Emirates Cab
www.emiratescab.ae
Area Of Operation: Sharjah City
Tel: +971-6-539 6666 
Citi Taxi
Area Of Operation: Sharjah City, Eastern Region
Tel: +971-6-533 4444 
Union Taxi
Area Of Operation: Sharjah City
Tel: +971-6-532 5555 

Advantage Taxi
Area Of Operation: Sharjah City and Central Region
Tel: +971-6-544 1938 
Unauthorised Car Lifts/ Fake Taxis
Sharjah Public Transport Corporation strives to put an end to unauthorized car lift as it encompasses a lot of dangers that affect negatively the public welfare and the safety of the passengers. Unauthorized car lift means practicing the activities of passenger transportation in a manner violating the licensing terms issued by STC.
Even though these taxis seem cheaper than the authorised ones they can lead the passangers into grave danger. Passangers can face different dangers when driving with a civilan driver posing to be a taxi. The driver may not be licenced or safe, the vehicle could be run down and not serviced thus endangering the life of the passanger. Furthermore the passanger may become a victim of crime such as robbery, kidnapping, assault, fraud ect. Furthermore supporting these illegal services can result in the negative effect on the economy of licenced companies.
Advice from the Sharjah Public Transport Corporation:
• Do not let low-price offered by private vehicle drivers entice you, avoid putting your life and properties in danger; do not go with such drivers especially in late night time
• Beware of entering into contract with any private vehicle driver or even a taxi driver who offers you to pay him driving you daily, as this might expose you to fraud crimes or even murder
Buses
Sharjah Public Transportation Corporation, as the governmental body, is organizing and supervising the operations of public transport service in Sharjah Emirate. This service is provided through KGL Passenger Transport Services, which had awarded the franchise right to operate Sharjah Public Transport Network under the brand name Mowasalat. 
KGL Passenger Transport Services k.s.c.c. is a leading provider of transportation solutions to the public and private sectors in Kuwait and throughout the Middle East and is a subsidiary of KGL Holding Company whose core competencies is Supply Chain Management (SCM) with activities throughout the Middle East, Africa and beyond.
No matter where you want to go in Sharjah, you can easily view and download the right route to get you there. Just go onto their web page and see the CITY BUS ROUTES and timings for a quick and enjoyable journey. There are dedicated seats for women.
Airport Transport
Sharjah Transport provides a regular bus transport service for the passengers from and to Sharjah International Airport through Mowasalat buses operated by the Public Transport franchised company in Sharjah City. There are bus routes and times on the website which make the trip to the airport easier. This also ensures that residents do not incurr parking charges at the aiport.
Sharjah Inter City Transport
Sharjah Public Transport Corporation operates passenger bus services nationwide, between Sharjah City, Ras Al Khaimah, Khor Fakkan, Kalba, Fujairah, Masafi, Ajman, Umm Al Quwain, Hamriyah Free Zone, Dhaid, Madam, Dibba Al Hisn, Abu Dhabi, Al Ain and Dubai.
Sharjah International Airport
Sharjah is a thriving, bustling city famed for its culture, heritage and tourist attractions. Sharjah International Airport history goes back to 1932, when it was used as a stopover point by Imperial Airways - the forerunners of British Airways, who constructed an airfield at Sharjah as a stopover en-route to India and Australia. Today, Sharjah Airport is the Middle East region's leading Air Transportation gateway. It is considered as the No.1 cargo hub in the region and it is increasingly becoming popular throughout the world as a favorite transit, departure and arrival point for passengers.
In October 2003, the government of Sharjah launched its own airline - Air Arabia. In a very short span of time the airline has spread its wings to serve many destinations, across the Gulf, North Africa, the CIS and the sub-continent. The resultant increase in passenger throughput via Sharjah Airport has been dramatic.
---
Parks in Sharjah
---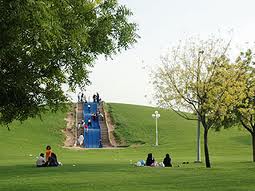 The Municipality maintains Sharjah beautifully landscaped parks of which there are over 40 spread around the city. Admission is usually free of charge. Parks have seating ares, sports pitches and green lawns. Many parks allow patrons to take in food and drinks so it is a perfect place for a family picnic. The smoking of Sheesha pipes is not permitted in public.
Opening hours may change during the Holy Month of Ramadan and during the summer, with parks opening and closing later in the day.
Al Jazeera Fun Park
This is one of the few parks in Sharjah that charge entrance but it has activities to ensure that the whole family is entertained. The park is build on a lagoon and is the perfect hetaway from the city. For entatertainment there is an amusement park, swimming pools and even a small zoo. There are also tranquil areas in the park where one can sit and enjoy the peace of nature, forgetting about the hustle and bustle of the city. 
SEE ALSO: Dubai dresscode 
Sharjah National Park
This is Sharjah's biggest park covering 630,000 square metres and is located at Intersection No. 5, Sharjah/Al Dhaid Road. This park opens weekday afternoons from 2 pm - 6 pm and all day at the weekends and on public holidays from 10 am - 7 pm.
Green Belt Park
Green Belt Park is for the ladies only and a great place to relax away from the city. It is also a relaxing place as there are only ladies and children in the park. It lies in the northeast part of the city of Sharjah, close to the Al Thaqafa (Cultural) Roundabout. The park also includes water fountains and an open theatre with four main gates.
Al Majaz Park
Al Majaz Park is one of the modern public gardens in the city and is close to the Khaled Lagoon. It has a central area for holding ceremonies and is a very popular place with plenty of child friendly facilities.
---
Beaches
---
The city beaches on the Arabian Gulf coast offer safe, white, sandy palm lined beaches with clear blue seas and gently shelving shores. The public beaches offer free access, but have limited facilities. The most popular beaches for sunbathing are Al Khan Beach and Al Mamzar. The Corniche Beach is popular on weekends but is not suitable for sunbathing.
Al Khan Lagoon to Al Mamzar Lagoon
This developing area between Sharjah and Dubai has no boat or jet ski restrictions so it is a popular place for motorised water sports enthusiasts but areas are roped off for swimmers only. The sea is generally clean and refreshing and it is a pleasant location close to the city. Mornings tend to be quiet and relaxing and afternoons noisy and active.
Al Khan Beach
Al Khan Beach stretches out from the old village in Al Khan to Al Layyeh power station and it is one of the safest beaches in the UAE. This beach is very popular with the tourists and during the weekends and holidays.
Al Corniche Beach
Palm trees surround the sandy beach, stretching out from Sharjah Ladies Club along the coast to Coral Beach Resort.
Khor Fakkan Beaches
The Oceanic Hotel & Resort beach is an appropriate destination in the city where you can enjoy your time and practice marine and water sports. The hotel charges for using their private beach. You can have a pleasant and delightful time swimming or barbecuing along the coast where many rocky outcrops are found. There are also charming sandy beaches and areas allocated for camping.
Khaled Lagoon & Al Buheirah Corniche
The Khaled Lagoon is a large expanse of water with a beautiful fountain at its centre. The lagoon is fenced off with green lawns and palm trees landscaping this magnificent tourist destination.
Al Buheirah Corniche that circumvents the lagoon is one of the most densely populated areas in Sharjah. Visitors enjoy walking here, around the lagoon, passing Al Jazeera Park and the Central Souk. The walking tour takes about an hour and covers a distance of 6 ½ kilometres. There are a large number of restaurants around the lagoon and several coffee shops and cafés.
Sharjah Corniche
The Sharjah Corniche stretches from Al Buheirah Corniche to Ajman Beach, passing by the fish market. It is a destination for walkers covering a considerable distance and following the creek and then the coast.
---
Deserts and Mountains
---
Sharjah, unlike Dubai, is not flat. It has a vast and expansive desert with ever changing sand dunes, as well as mountains and wadis that are popular with tourists, expats and locals alike. The desert is filled with quad bikes and four wheel drives. The mountains offer a different terrain that is also popular with four wheel drives, one can criss cross the terrain between Al Ain, Oman and Sharjah.
Dune bashing
Desert driving is an art in its own right. There is plenty of sand to practice on within 15 minutes of the city, but please keep to the tracks. Tour operators will arrange desert safaris including sand skiing and even courses in sand driving. 4-wheel drive vehicles can be hired from most rental companies but make sure you have some experience before venturing into the unknown, and always go with at least one other vehicle.
Quad biking
These noisy but 'fun on four' wheel bikes can be hired in the vicinity of Fossil Rock. The area is fenced off with sections to suit various ages. Helmets are provided.
Wadi Trips
The impressive Al Hajar Mountain range offers spectacular drives amid high and rugged scenery. Explore the popular Wadi Bih trip from Dibba up into the Mussandam Peninsula.
---
Sports 
---
The Emirate of Sharjah offers the outdoor adventurer a choice of sports suitable for the summer and the winter. During the summer months people tend to slow their heart rates and explore what Sharjah has to offer under it's waters. A dip in a cooled swimming pool is also a summer option. During the winter, however, heartrates tend to race as the weather cools and becomes just perfect for desert driving, hiking, camping and wadi bashing. There are many team sports in sharjah for sporting enthusiasts as well as individual sports such as jogging for people who prefer to work out on their own.
Walkers, joggers, climbers and cyclists have plenty of scenic routes to enjoy to get fit. Team players and racquet sport enthusiasts have a great variety of sports and clubs to join. Most of the larger hotel clubs in Sharjah offer courses, classes and coaching in various sports and also provide gymnasium facilities. Many of the smaller parks have playgrounds available to residents on a first come, first serve basis.
Basketball, volleyball, bowling, climbing, golf, cricket and horse riding - most sports are available in the various centres, hotels or clubs in the Emirate.
Sharjah provides ideal conditions for all water sports for most of the year; lagoons, bays and creeks for wind-surfing, with designated areas for water skiing and jet skiing, mangroves for canoeing and the east coast for snorkelling, fishing and diving, plus the Arabian Gulf coastal shores for sailing. The sea is generally safe and unpolluted, perfect for swimming and snorkelling.
The most popular activities in Sharjah include bowling and golf. The Golf and Shooting club offers paintball which is great for the kids, and adults can enjoy a round of golf or try their hand at shooting. Sharjah is also a haven for equestrian enthusiasts with riding centers that offer everything from desert hacks to pony rides.
---
Annual Events
---
There are a number of special events and destinations within Sharjah that host a series of activities to celebrate certain times of the year and to provide entertainment for families.
F1 Powerboat Race & Sharjah Water Festival
In an action packed programme of family fun, extravaganza and water sport, the Sharjah Water Festival takes place every December in and around Khaled Lagoon and celebrates the culture, history and marine heritage of the Emirate. The Festival Programme has activities for every type of fun on, in and near water with musical shows, magical entertainers, fireworks and special activities for children.
The grand finale of the week's long festival is the final round of the prestigious international World Championship Formula 1 Powerboat, Sharjah Grand Prix held in the Khaled Lagoon. 
Cultural Awareness Programmes
If you are resident or visiting for a longer period you may be interested in attending the excellent cultural awareness programme run by Sharjah Museums Department. The core content covers topics of heritage and traditions including national dress, food and drink, arts, dance, songs, festivals and celebrations. From October to June, these are held on the first Saturday of every month at the Sharjah Heritage Museum.
Al Qasba
This is a major cultural hub and leisure destination providing all kinds of recreation and entertainment attractions for adults and children, retail outlets, cafés and restaurants, as well as exhibiting local and international art during the winter season. It also features a 1,500 square metre exhibition space to showcase local and international cultural and educational institutions and associations, plus its own hall hosting art films and international performances.
Al Qasba includes Al Qasba Theatre, which hosts music concerts and different performances, in addition to diversified events and activities organized by cultural and educational establishments throughout the year. 
During the Holy Month of Ramadan, 'Ramadaniat Al Qasba' offers a fun and entertaining time with a host of special Ramadan evening activities for families and visitors. Every summer the 'Big House of Fun' lives up to its name providing children with a range of exciting events to keep them occupied over a six week period.
Eye of the Emirates
The Eye of the Emirates is among the most prominent and outstanding features of Al Qasba. The Eye of the Emirates observatory wheel stands 60-metres high with 42 fully air-conditioned gondolas offering stunning panoramic views of Sharjah and Dubai.
Sharjah Light Festival
Competing with cities such as Lyon and Berlin, Sharjah launched the Sharjah Light Festival in 2011, it is the first of its kind in the Middle East. The Festival tells the story of Sharjah and its people and is usually held in the first quarter of the year at different locations in the city. Previous locations included modern government and heritage buildings among them Sharjah Fort, Sharjah Art Museum and Majlis Al Midfa, Al Qasba, University City, Central Souk, the Palm Oasis and Al Noor Mosque.
F1 Powerboat Nations Cup & Festival March Khorfakkan
International sporting action from F1 powerboats and fascinating, family-friendly and heritage-rich festivities on Sharjah's East Coast.
Al Majaz Waterfront
With an amazing lagoon-side setting, wonderful indoor and outdoor play areas for children of all ages, and easy parking – it is no wonder that this new development is fast becoming a favourite hangout. Cafes include Il Café Di Roma, Tim Hortons, Caribou Coffee, Cold Stone Creamery and Maras Turka Ice Cream.
---
Museums
---
Discover a world of knowledge with over twenty state-of-the-art museums and beautifully restored heritage areas that offer more to see and do than any other emirate.
Whatever your age or interests; be it Arabian culture and lifestyle, the arts, nature, science, archaeology, the local history of maritime and flight, you will not be disappointed. Families are welcome and the museums offer a learning experience in a fun filled environment. A small admission fee is charged.
In general:
• A small admission fee is charged
• Parking is available
• Please call the museum for Ramadan and public holiday timings
• Guided tours are provided free of charge by museum guides
• Group and school bookings can be arranged on request
Sharjah Hisn (fort) +97165655455
Sharjah Archaeology Museum +97165665466
Bait Al Naboodah +97165685500
Bait Khalid Bin Ibrahim +97165681738
Al Eslah School Museum +97165680606
Majlis of Al Midfaa +97165684114
Sharjah Maritime Museum +97165681738
Sharjah Heritage Museum +97165222002
Sharjah Museum of Islamic Civilization +97165680006
Sharjah Art Museum & Contemporary Arab Art Museum +97165688222
Sharjah Calligraphy Museum +97165694561
Sharjah Aquarium +97165285288
Sharjah Natural History & Botanical Museum +97165311411
Arabia's Wildlife Centre +97165311999
Children's Farm +97165311127
Sharjah Discovery Centre +97165586577
Sharjah Science Museum +97165668777
Al Mahatta Museum +97165733079
Sharjah Old Cars Club and Museum +97165580058
For more information on what to do in Sharjah visit http://www.sharjahtourism.ae
---
 Shopping
---
In a city bustling with life, you can shop almost 24 hours a day and buy everything and anything from Oriental carpets to tropical fruits, gold, silver and precious stones, jewellery, gifts and handcrafted souvenirs, designer fashions, delicious Middle Eastern sweets, the latest in electronics and so much more. Whether you are looking for a piece of furniture, the latest digital camera, a gold necklace or a diamond ring, you can shop around for the right shape, size or colour.
Sharjah offers a treasure trove of modern malls, stylish shops and boutiques and unique souks and bazaars. The city has several separate shopping areas with busy malls, large showrooms and smaller department stores and centres, as well as exciting furniture warehouses full of artefacts, with fantastic promotions throughout the year. 
Shopping here is tax free, so retail prices tend to be reasonable for both brand name goods and especially for curios and handicrafts sold in the souks. Prices are fixed in the malls and the department stores but bargaining is a long-established tradition in the souks. Usually all major credit cards, travellers' cheques and US Dollars are accepted. Smaller shops may only deal in cash. There are many exchange houses around town that are open all hours.
Sahara Center
Strategically located on the Dubai – Sharjah highway, Sahara Centre is undoubtedly one of the Sharjah's landmarks and the UAE's complete family shopping and entertainment hub. Sahara Centre is a hub for lifestyle shopping with everything under one roof. Its unique retail offerings include a wide range of fashion items for the entire family along with sporting goods, toys, cosmetics, jewellery, books, home furnishing and electronics. The mall's distinctive architecture and design features a unique spacious environment with exquisite wide-open spaces, natural light, comfort and calm. This one-of-a-kind appealing ambiance offers the ultimate joyous experience for the entire family.
Ansar Mall
Ansar Mall is the first shopping mall of this type in UAE for its strategic location between Dubai and Sharjah. Ansar Mall provides a unique change for shopping in a new place where visitors can find all their requirements in the seven floor shopping mall. Ansar Mall was established with an objective to cater the needs of people across all classes. Catering both Arabs as well as the expatriates, Ansar Mall promises a luxurious shopping experience spread over an expanse of 320,000 sq.ft. At Ansar Mall, Dubai Sharjah highway, UAE you can find just about everything you need and wishes for!
Sharjah City Centre
Sharjah City Centre is located in the heart of Sharjah, along the main Al Wahda Street. Developed and managed by Majid Al Futtaim Properties, the Centre has recently completed its expansion, renovation and redevelopment programme. The new extension takes the mall's total retail area offering to 37,896 square metres with a total of 117 shops offering the ultimate value oriented retail mix. The mall is now home to an additional 22 new stores including internationally renowned anchor stores New Look, H&M and Borders. Other leisure and entertainment facilities in the mall include a Magic Planet and 16 fast food outlets, positioning Sharjah City Centre as one of the dominant Centre's in the Emirate for value shopping.
---
Getting Switched On
---
SEWA is Sharjah's electricity and water authority. Whenever you move into a new fat or villa you will have to register with SEWA in order to get you electricity turned on. Registering is easy but you will need to have a few documents ready before you can proceed. Every resident must do this. There is also a procedure for cancelling the SEWA account once you vacate the property.
Tenant registering a SEWA account
The customer should ensure that there are no outstanding dues on the account of the leased premise. If any, it should be settled with the owner before arranging the connection. Then, the consumer should arrange the following requirements:
1- Payment of the relevant deposit and approval of the Tenancy contract by the in charge of the concerned branch office.
2- Attesting the Tenancy contract with the Municipality.
3- If the building is connected to the Gas System, the Natural Gas Directorate is to be approached to connect the Gas Supply to the cooker and pay the specified fees.
4- Approaching the concerned branch office for the connection of the electrical and water supply
For closing the customers Account and obtaining Clearance Certificate, the following steps should be followed:
1- The original Deposit Receipt or its replacement copy is to be forwarded to the concerned branch office.
2- A representative from the concerned branch office will visit the premise to disconnect the supply (electricity, water and natural gas) and take the reading of the meters.
Notice: If the natural gas pipe is damaged, the customer should pay a penalty of Dhs 100.
3- Settlement of final dues (electricity, water and natural gas), otherwise the same will be deducted from the deposit value.
4- The value of the deposit will be reimbursed to the customer.
5- Upon settlement of final dues, a Clearing Certificate may be issued against payment of an amount of Dhs 10.
Where to pay your SEWA bill
1) In person at our site offices
2) Emirates Post offices.
3) Pay through our Partner Banks.
4) Login to your SEWA account to use MasterCard or VISA (please check Registration Page).
---
Healthcare
---
University Hospital Sharjah
The inauguration of the University Hospital Sharjah in June 2011 truly signifies the realization of the vision of His Highness Sheikh Dr.Sultan Bin Mohammed Al Qassimi, Ruler of Sharjah, Member of the Supreme Council, to provide the residents of the United Arab Emirates in general, and Sharjah in particular, with in-country access to exceptional World-class healthcare services.
The unparalleled hospital is equipped with state of the art medical facilities and technology, and the dedicated, experienced, and highly qualified staff, are providing their patients with compassionate, ethical, and cutting edge professional healthcare.
Tel: +971 6 5058555 
Fax: +971 6 5058444
Email: [email protected]
Al Nakheel Hospital
Al Nakheel Hospital was established in December 2010, covering an area of 11,000 Sq.ft, situated on third floor of Rolla Mall, Sharjah. Dr. Qurban Hatim Pamina M.S., FRCS is the Consultant laparoscopic Surgeon, Managing Director and owner of this hospital.
Al Nakheel Hospital is having state-of-art facilities of a quality healthcare organization of international standard. The development of professional relationship between the patient and doctor is of fundamental importance. This philosophy, combined with the easy accessibility of our medical staff for advice and discussion, makes us a more caring hospital. Patients and their families are encouraged for active participation in their medical management and are given good knowledge and understanding of proposed treatment, alternative available management and their benefits, complications and likely outcome. Our staff provides personalized and respectful services to patients and their families and that work culture has created a bond of trust and confidence between this hospital and them.
Tel:   +971-6-5618899
Mob: +971-55-7610859/+971-55-7489132
Location: 3rd floor, Rolla Mall, Rolla
Email: [email protected]
SEE ALSO: Airports in Dubai
Sharjah Corniche Hospital
Sharjah Corniche Hospital is located in the picturesque settings of Buhairah Corniche with State of the Art Theatres, polyclinic and high end equipments whilst offering the patients and their surgeons the highest standard of Surgical care. The Hospital has a distinguished architecural design and recruits highly skilled staff who implement recent advances in different surgical fields.We offer a full range of services and provide exceptional care and peace of mind for patients and their families,it can be considered as one of the best facilities in UAE. 
The hospital is supported by a fully fledged Diagnostic Center equipped with advanced facilities for CT, X – Ray and other diagnostic requirements with an advanced Laboratory using the most contemporary Technologies which covers all required investigations.
Location: Corniche Plaza II,
              10th Floor,Opposite Marbella resort,
               Buhairah Corniche
Tel: +971 6 5751222/+971 6 5738855
Fax : +971 6 5722231/+971 6 5722020
E-mail : [email protected]
---
Emergency Numbers
---
Emergency Services
Police 999
Fire 997
Fire 997
Ambulance 998
Electricity, Water, Gas 991
Hospital Emergency Numbers
Zulekha Hospital 06 5658866
Central Pvt Hospital 06 5639900
Al Zahra Private Hospital 06 5619999
Kuwaiti Hospital 06 5242111
Royal Hospital 06 5581515
New Al Qassemi Hospital 06 5386444
Central Private Hospital 06 5639900
Police
Police headquarters 06 5633333
Operations Room 06 5631111
Public Relations 06 5633333
Criminal and Investigation Department 06 5631111
Forensic Laboratory 06 5381118
Al Hira Police Station 06 5241555
Al Gharab Police Station 06 5625555
Al Buhairah Police Station 06 5564555
Al Dhaid Police Station 06 8822222
Hamriya Police Station 06 5253333
Traffic
Sharjah Police General directorate 06 5633333
Anjad Police Department 06 5634444
Airports / Flight Enquiry
Sharjah International Airport 06 5581111
Flight Enquiry 06 5581111
Customs 06 5581011
Cargo Terminal 06 5581127
Airport Taxi 06 5081288
Municipality
Sharjah Municipality 06 5623333
Parks and Agriculture Department 06 5341600
Environment Protection Section 06 5640285
Public Health Section 06 5650097
Solid Waste Section 06 5344888
Public Health Clinic Section 06 5650532
Food, Central Laboratory 06 5650017
Al Dhaid Municipality 06 8822902
Al Hamriya Municipality 06 5253322
---