Here's everything you need to know about having microblading on your eyebrows in Dubai
Posted on
2 July 2018
|
Last updated on 1 October 2019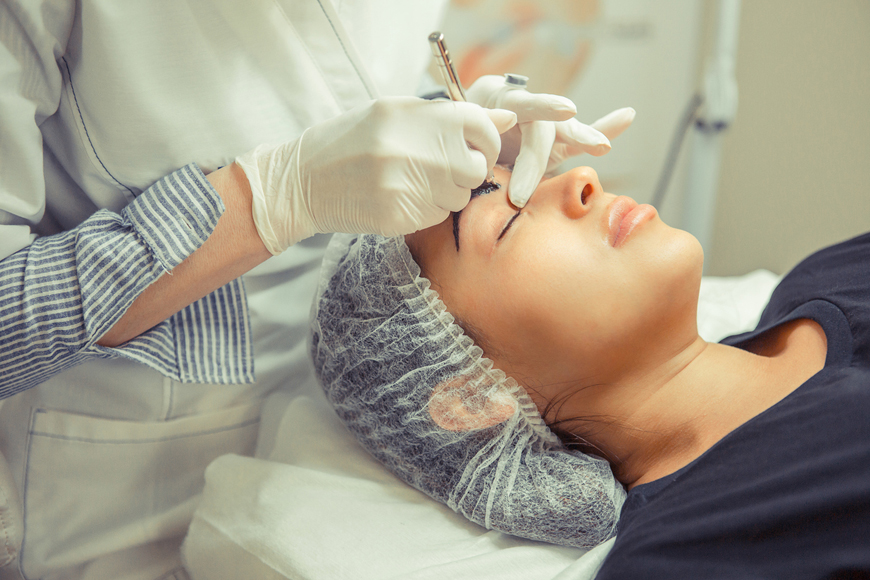 Unless you've been living under a rock recently, you've most definitely seen or heard of microblading in Dubai.
This semi-permanent make-up procedure is one of the most new-ish, popular treatments for women seeking a fuller and better shaped eyebrow.
Microblading in Dubai is popular thanks to the skilled delicacy of applying super-fine hair strokes that look so natural and realistic… A far cry from the older, stamped-on versions of eyebrows our parents and grandparents lived with.
If you're considering having microblading done in Dubai, here's our complete guide to microblading and the treatments and aftercare for you.
What is microblading?
Microblading is a technique that uses a super-fine pen – or a bundle of 12 to 15 needles, we should say – that deposit pigment into the skin.
Is microblading permanent?
The tip is so fine that it can create hair strokes that look real, and unlike tattoos, the needles reach only into the superficial layers of the skin. As a result, microblading is a semi-permanent solution to better brows.
Does microblading hurt?
Any needle penetrating your skin is bound to have some pain associated with it. However, the pain level is considered to be mild to none.
SEE ALSO: A complete guide to laser hair removal in Dubai
If you're concerned, you can ask that your brow artist completes your microblading with the help of numbing cream. Just ask when you book your consultation or first treatment appointment.
If you're brave enough to have microblading without numbing cream, go girl!
Is microblading safe to do?
Microblading is a safe and effective procedure… When done by someone experienced. It is a cosmetics treatment that must be done under sterile conditions, or risk developing a skin infection.
Additionally, as the depth of the stroke isn't too deep, there is no real scarring reaction from microblading. Plus, the needles do not cut deep enough to affect your hair follicle or hair growth.
What is the cost of microblading in Dubai?
Depending on what Dubai salon you visit, you can have eyebrow microblading from AED 1,500 up to AED 4,000.
It also depends on the brow artist you book with; reputable and Dubai's best microblading eyebrow artists are on the more expensive end.
Make sure you do thorough research and discuss your end-result expectations and style before booking with one of Dubai's best brow artists.
How long does microblading take?
Length of treatment may vary due to each individual client's needs and the state of their eyebrow before undergoing microblading.
SEE ALSO: 7 spa treatments you must try in Dubai
For your first microblading however, on average, the entire procedure should take between 2.5 to 3 hours. During your first session, the brow technician will shape and style your brow, which will then be followed with a pigment colour selection. Once all is agreed, the procedure begins.
How long does microblading last?
Microblading typically lasts between 1 to 3 years, depending on your skin type and skincare routine.
After your first session, a follow-up visit is in order to have any minor necessary touch-ups. The second microblading session usually takes place 4 to 6 weeks after the first appointment, and may take between 1.5 to 2 hours to complete.
How long does microblading take to heal?
The microblading healing process is thankfully, uncomplicated. Immediately after a procedure, your eyebrow will be slightly red and the colour will appear very dark, which is normal.
SEE ALSO: The differences between a Turkish and Moroccan bath
The colour will fade up to 40% as it heals, and it takes between 7 to 14 days for your microbladed eyebrows to fully heal over, and around 1 month for the colour to fully set in.
When it comes to microbladed eyebrow aftercare, there's some simply instructions you're advised to follow:
Within 2 hours of your procedure, clean brows with distilled or cooled down boiling water and then lightly pat dry, then apply healing balm
Apply a light layer of healing balm morning and night to brows for at least a week
Do not over apply healing balm
Do not immerse brow area in water for 2 weeks, and when showering or cleansing, avoid face area
Avoid alcohol and aspirin/ibuprofen and any blood-thinning vitamins you may take
Do not peel or pick the scabs from your eyebrows during the healing process
Do not go swimming, tanning or into a sauna for at least 2 weeks
No face scrubs or chemical peels for 2 weeks
Who is not suitable for microblading in Dubai?
As with any cosmetic treatment and procedure in Dubai, there are certain candidates that are not suitable to have microblading done. Including:
Those using Accutane
Those who have diabetes
People who have heart conditions, and/or are using heart medications
Have a skin disease or irritations
Have had Botox in the last 2 weeks
Have had a chemical peel or a deep tan in the last 2 weeks
Anyone who has a serious medical condition may require a doctor's note
If you're wondering if microblading can be done while pregnant, it can be done at your own discretion. Some Dubai salons may have a policy against pregnant women having microblading done. However, it is highly recommended you discuss it with your doctor or midwife first.
SEE ALSO: Why spa parties in Dubai are the best thing ever
Microblading is still considered a tattoo, and is a personal choice to have it done during pregnancy. Nevertheless, we advise you seek your Dr's advice beforehand.