We've got 15 fun facts about the British superstar and young sensation Olly Murs so his UAE fans can get to know him.
Posted on
3 April 2017
|
Last updated on 25 May 2017
Confirming his reputation as one of Britain's very best live performers, Olly Murs' Spring 2017 UK Tour that began in Glasgow saw him cross continents for his headline show in Abu Dhabi in April. 
The British superstar dazzled his UAE fans on his Abu Dhabi debut performance at the du Forum, Yas Island on Friday 28th April, 2017. 
The event's organisers FLASH Entertainment have shared with us
a list of 15 facts about the young sensation
, like his love for high quality sushi (we agree!) or his appearance on the gameshow 
Deal or No Deal
, where he won £10. 
Here's some further insight into the Essex-born showman's bio and rise to fame: 

1. Olly Murs was born on May 14th 1984
He shares his birthday with other world stars like Martin Garrix, Cate Blanchett, Prince Harry and Mark Zuckerberg.

2. Olly Murs' zodiac sign is Taurus
Like Adele, Sam Smith or Enrique Iglesias.

3. Olly has stated that two of his role models are Michael Jackson and Robbie Williams
Olly had the chance of performing a duet with Robbie Williams 'Angels' on the UK X- Factor final in 2009 and he's now a close friend of his.

4. Olly auditioned for The UK X-Factor in 2009 with Stevie Wonder's 'Superstition' and was mentored by Simon Cowell
Eventually finishing in second place. Shortly after he signed his first record deal and released debut album "Olly Murs" in November 2010.

5. Before his audition, Olly worked in a call centre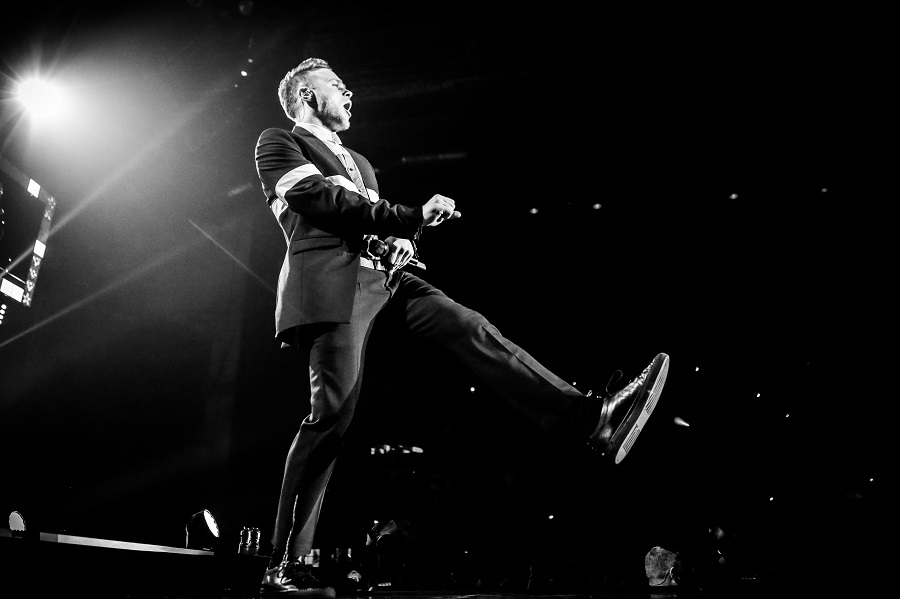 6. Olly became instantly successful
With thanks to his debut single "Please Don't Let Me Go" released in August 2010. It went straight to number one in the UK Singles Chart. He next got to number one in 2011, when he released Rizzle Kicks collaboration "Heart Skips A Beat".

7. His second album "In Case You Didn't Know" also got to number one...
...and so did his next single "Dance With Me Tonight". He performed it alongside The Muppets on the X Factor. "Right Place Right Time" was Olly's next album, getting to number one in the UK and also entering the US charts at number 19.
SEE ALSO: du Live! Presents Olly Murs 2017 Spring Tour in Abu Dhabi

8. In 2012, Olly released an autobiography
It's called 'Happy Days' and that same year he also went on tour with One Direction.

9. Olly's trademark hats come from his nan
She handknits them herself!

10. Olly is an outspoken Manchester United fan...
...cheering regularly for the Red Devils on social media. Olly himself played football for Witham Town, but had to give it up due to an injury

11. Olly previously said that if he were to be stranded on an island he would take a duvet, a pillow, an iPod and a guitar
12. Olly spent five days in the Kaisut desert in North Kenya back in 2011
It was part of the Comic Relief trek he was involved in. 

13. Four of Olly's tracks have been nominated for "British Single of the Year" at the BRIT Awards
He was also nominated as best "British Male Solo Artist" at the 2013 BRITs.

14. Olly has won two BBC Radio 1 Teen Awards
Once in 2011 and next in 2013.

15. In addition to his musical talents, Olly holds a Guinness World Record for tea making
In January 2011, Olly and campaigner Alex Loughlin made a staggering 496 cups of tea in 60 minutes setting the world record for the most cups of tea made in one hour.
 
This event was presented by du Live! and produced by FLASH Entertainment, which you can find out more about at www.thinkflash.ae
For more information about Olly Murs himself, visit www.ollymurs.com