We're kick-starting the festive season in the city and YOU are ALL invited
Posted on
11 November 2018
|
Last updated on 13 November 2018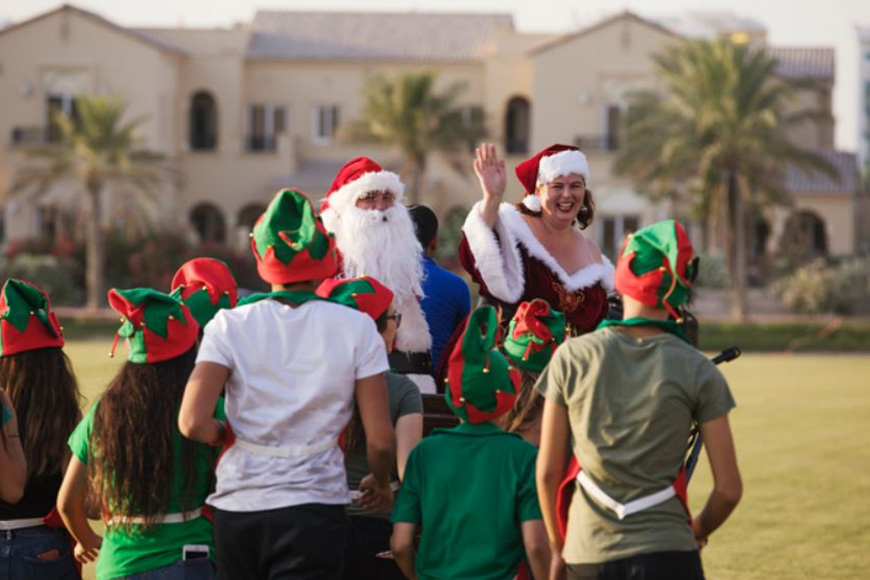 Our hugely popular, annual Festive Family Fair is BACK for 2018 THIS week!
Every year we kick-start the festive season in Dubai, with our fun-filled, family-friend event, ExpatWoman's Festive Family Fair.
It's the perfect way to begin your Christmas shopping, help the kids share their Christmas list with Santa himself, plus there's a festive schedule of onstage entertainment, giveaways and general festive fun that the whole family will enjoy.
SEE ALSO: Check out the pictures from the 2017 edition of the ExpatWoman Festive Family Fair
For 2018, we're bringing back our annual favourites; including Santa's Grotto, the Kids' Fun Zone and our Crafters' Market but new this year we'll also have our dedicated Food Truck & Picnic Zone AND the final match of the inaugural ExpatWoman Polo Challenge Cup Tournament!
If that isn't enough to persuade you, then these 5 reasons why you need to attend our 2018 edition might just sway you to come along!
1. It's FREE entry for all
That's right - whether you bring the entire family along, your friends, colleagues or even your in-laws... Our Festive Family Fair is free entry for all to enjoy.
Plus, there'll be kids activities that are free like the bouncy castles and big slide, the obstacle course, a master builder. Santa's Grotto is a ticketed activity.
2. Meet Santa Claus himself
No matter what age you are, meeting the main man himself is always a delight. At our special Santa's Grotto, you and the family can spend some quality time with St. Nicholas and you'll be able to capture those picture-perfect moments to share with family and friends.
Not only that, but your little ones will walk away with a gift that's worth AED 50+!
As we've mentioned, Santa's Grotto is a ticketed activity. After all, at this time of year he's very in-demand. So make sure you get your slot booked with him by arriving early so your kiddies don't miss the chance to see him.
If they do miss him, there's always our Santa's Parade towards the end of the day where your little ones can catch a glimpse of Santa, Mrs. Claus and the elves.
3. Start your Christmas shopping
Every year, we proudly partner with some of the most talented artisans and boutiques in Dubai, each offering a diverse and unique shopping experience that's the perfect place to start your Christmas shopping.
Browse for that perfect Christmas gift for your loved one, find stocking fillers and one-of-a-kind gifts that your favourite people will no doubt love receiving on Christmas morning!
4. Free activities, giveaways and prizes up for grabs
We've teamed up with some of Dubai's best vendors and companies to bring our Festive Family Fair to you this year. We have a range of partners and supporters joining us on the day to showcase the best products and services in the UAE... And most if not all will be offering great prizes on the day, too!
In our EWmums Zone, you'll find resources, activities, products and services all mums in Dubai are looking for. Over in our Health Zone, you'll find Kings' College Hospital London plus several others of Dubai's best medical providers... There'll be free health-checks, fun and family-friendly activities and prizes up for grabs.
In our Home & Car Zone, you'll find everything you need to make your life in Dubai that little bit easier. From appliances to cleaning services and car solutions - there'll be some great giveaways in this zone so don't miss out! Over in the Lifestyle Zone, you'll find Cobone and other services that help make the hectic festive seasons stress-free!
And that's not all... In our Kids Fun Zone your little ones will no doubt be glad to try out our bunch of free activities!
5. Celebrate Christmas - Dubai style
While Christmas may not be for another month, our Festive Family Fair is always the perfect way to start your festive countdown. Whether you're a long-standing expatriate or you're new to the city, there's always a joy and excitement that surrounds the holiday in Dubai. Especially as the UAE is so open to embracing other cultures and traditions, which helps make this glorious city the melting-pot we all know and love.
Plus, you can't quite beat listening to Christmas carollers whilst the sun is shining!
We'll see you all there!