As part of this year's Living in Dubai, we're bringing you this brand NEW segment focused on working in the emirate
Posted on
1 August 2017
|
Last updated on 27 August 2017
Every year, we bring expatriates here our Living in Dubai event, which aims to bring the ExpatWoman.com website to life. 
Providing ample opportunities for expats to find answers to questions they have about life here in the emirate in general, Living in Dubai looks at all aspects of living here; from education, to healthcare, to home service providers to meeting brand new people. 
A huge part of life here for any expatriate is work.
There's no doubt about it; whether you're a working woman who is grasping an exciting opportunity after moving here, an old hand seeking a new career or a wife who is supporting her husband in his new venture - working is a huge driving force for expatriates moving to and living in Dubai. 
Which is why, for our 2017 edition of Living in Dubai, we're introducing a brand NEW segment that aims to bring you exactly what you need to excell in your career here - you'll learn from industry leaders and experts on the in's and out's of living, working and developing your career in Dubai. 
Here's an overview of the agenda:

10am: Introduction by ExpatWoman.com
10.30am - 11am: Understanding the Arabic Language and Culture
11am - 12pm: Tools for a Competitive Edge in Life and Work
12.30pm - 1.15pm: The Importance of Intercultural Fluency
1.30pm - 2.15pm: Career Realities, Challenges and Opportunities in the UAE
Join us on Saturday, 26th August 2017 at The Address Dubai Marina in the Constellation Ballroom from 10am until 3pm. And best of all? The entry is FREE and no registration is required. Simply turn up on the day to enjoy what there wil be to offer. 
We've teamed up with industry experts in the city to bring you information, advice and insider tips on different career paths and opportunities that Dubai provides for working women. 
Understanding the Arabic Language and Culture
Time: 10.30am-11am
Who: Shireen Sinno from The Arabic Language Centre
In this session, you'll have the opportunity to learn the ins-and-outs of the Arabic language and culture; from understanding why you should know Arabic in the UAE, the basics to grasping learning the language, plus the rules of writing in Arabic.
Not only that but you'll have the chance to learn some Arabic in an interactive, hands-on practice... Simple gestures and greetings that will help you in every day conversations with Arabic speaking persons living here. The session will be tied-up nicely with an overview of the do's and dont's in the Arab world, too.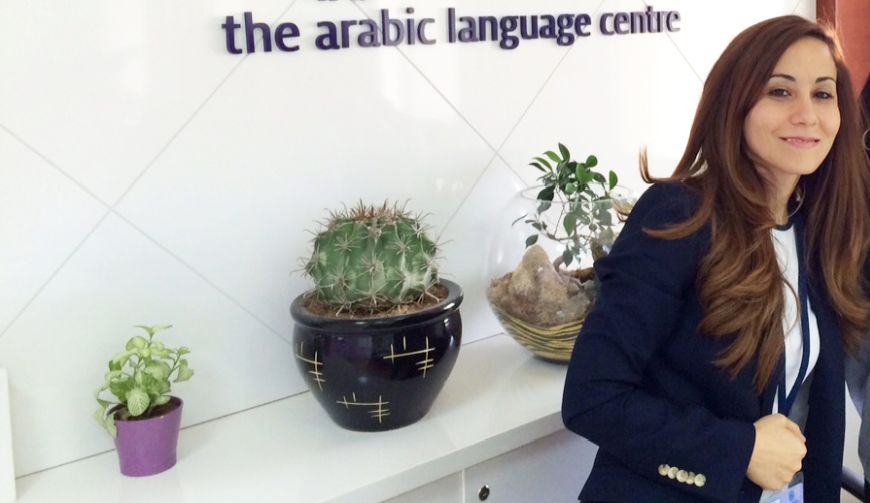 Leading this session will be Shireen Sinno from The Arabic Language Centre. She has managed ALC since October 2011, and has 10 years of experience in teaching Arabic and English as foreign languages to adults in several Arab countries, and in Canada. 
Besides teaching, she has been involved in curriculum design and teacher training. Prior to that, Shireen has worked in the advertising industry for different business sectors in the Middle East. Shireen holds a B.A. in Liberal Arts, Women's Studies Option, from the University of Waterloo, Canada and an M.A. in Teaching English to Speakers of Other Languages (MATESOL) from the American University of Sharjah. She is also a holder of the TESL Canada professional certificate.
New Terms for Arabic for Adults and Arabic for Children starting September 9th.
Register by August 27th to avoid disappointment!
Call 04 3315600 or send an email to 

[email protected]
---
Tools for a Competitive Edge in Life and Work
Time: 11am - 11.45am
Who: Sallyann Della Casa from GLEAC
Learn how to access 5 easy tools to ZAG and have a competitive advantage in life and at work. In this practical talk you will learn how to do a Strategy Canvas, test your 21st century skills against your peers, learn the powers of persuasion to get a YES, figure out your strengths and journey map your definition of success. It is a power packed talk with practical tools you will be able to use right away to change your storyline. 
Sallyann Della Casa is the Lead Tree Shaker at The Growing Leaders Foundation for the last 5 years. Her first act was as a corporate lawyer for 10 years in the US.
 
GLEAC her latest venture brings full circle her data-driven legal mind, her people driven strength as an organisational behavior professional working with companies such as Nestle, DP World, NBAD, Repsol, Mubadala, Careem etc. and her expertise as a curriculum and system designer for her Foundation.
---
Intercultural Fluency and First Impressions
Time: 12.30pm - 1.15pm
Who: Linda Flanagan from The British Council
Do you work in a diverse multicultural environment? Do you collaborate with or oversee colleagues from different cultural backgrounds? Being able to operate and communicate within different cultural contexts is fast becoming a definitive skill in today's interconnected world. It is particularly essential in thriving global hubs such as the UAE. 
Drawing on The British Council's 80 years of unrivalled experience of cultural relations, this training led by Linda Flanagan, involves interactive activities and provides participants with a range of strategies they can immediately apply in the workplace to become more effective in the ways they collaborate, communicate and build relationships with people from different cultural backgrounds.
Linda is from the UK and has a wide experience of working in a number of different countries as an ex-pat teacher and trainer. She has extensive experience of training and teaching in multi-cultural settings and is a qualified and experienced trainer of language learners and corporate clients (UK, UAE, Iran, China and Dominican Republic) and an accredited Intercultural Fluency trainer.
She has facilitated a range of courses for the Ministry of Education in Abu Dhabi as well as from large organisations such as DELL, Al Futtaim and the Air traffic Controller training centre in Morocco. She plans and delivers sessions to meet the needs expectations of the participants . Her flexible approach means she can respond and adapt her methodology to suit the audience.
She has a strong commitment to promoting the values of diversity and intercultural understanding within the contexts where she is teaching or training.
---
Career Realities, Challenges and Opportunities in the UAE
Time: 1.30pm - 2.15pm
Who: Donna Needs from WLP Success
In this session with Donna Needs from WLP Success, you'll have the chance to gain an insight into the career realities that exist in the UAE, as well as the challenges and opportunities you will face as a professional in the country. 
Learn all about re-entering the job market, how to secure that new job and gain advice on changing jobs in the UAE; from finding your passion, to unconvering your values, building your confidence and staying positive and resilient. 
Not only that, but Donna will also be giving an overview of the employment and business ownership situation currently in the UAE, and will provide an insight into everything from labour laws for sponsorship, employment packagess, vacations, part-time work, recruitment companies and also help to find that work/life balance. 
Lastly - session-goers will have the chance to gain insider tips on how to market yourself in the UAE's job market; everything from building your CV, to networking and interview tips. Plus, advice on asking for help, planning and commitment. 
WLP Success is a boutique coaching, training and consulting firm based in Dubai, UAE. WLP Success was co-founded by Donna Needs and Susan Castle - both highly experienced and skilled coaches, trainers and consultants. 
Stay tuned for further updates and announcements...