Calling All Parents: Check the Location of Your Child's Phone and Tablet Chargers
It doesn't matter what age you are, doing this is very dangerous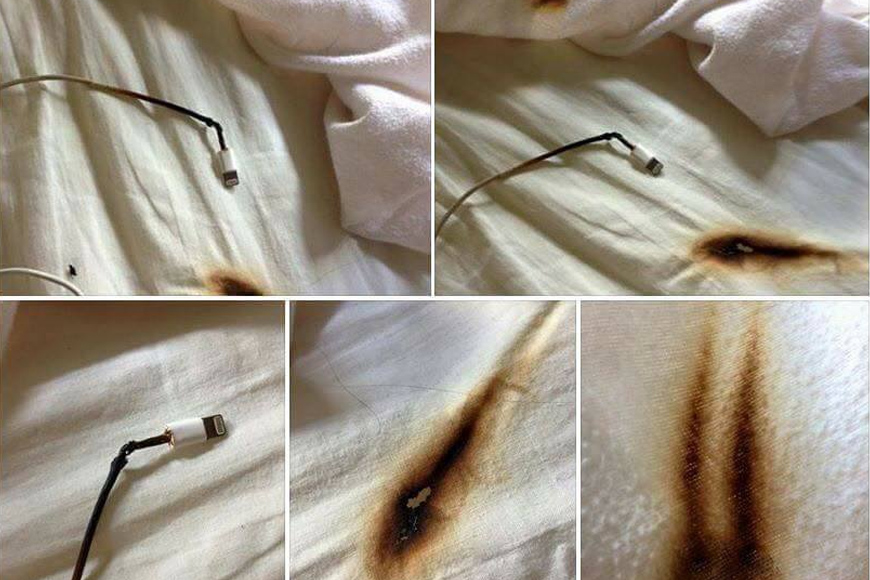 Image Credit: Facebook/Newton NH Fire Department
While parents may already be aware of the risks of children and teens using their smartphones and tablets before bed - less sleep, and a poorer quality of sleep - a fire department has recent warned of another risk that parents must remember; charging electronic devices in their beds as they sleep.
The emergency service in New Hampshire shared an important post on their official Facebook page, that shows exactly why they're warning parents to ensure their child's phones are placed in a suitable place to charge throughout the night.
The post states that 53% of children/teens charge their phone or tablet on their bed or under their pillow.
Another study back in 2013 by the National Sleep Foundations showed that 72% or children and 89% of teenagers have at least one device where they sleep.
As adults, we know ourselves just how easy it can be to fall asleep with our phones in hand, or with our tablets next to us in bed after reading or browsing the Internet and our apps. But this habit is an 'extremely dangerous' one to keep doing, as the Newton, New Hampshire Fire Department have made clear.
By placing a charging electronic device on the bed, 'the heat generated cannot dissipate, and the charger will become hotter and hotter', their post explains.
Their awareness post also included photos of burned linens and bed sheets from an overheated charger, to demonstrate just how close this could be to your child's body if this were to ever happen.
"The likely result is that the pillow/bed will catch fire', the post reads, which 'places the child/teen as well as everyone else in the home in great danger.'
And yes, it CAN happen to you
Parents are urged, in an effort to keep families as safe as possible, to check where your child's charging their devices at night, and to ensure they're placing them in a safe, suitable place that is a safe distance from their bed.
In 2016 in the UK, a 15-year-old girl named Caitlin Rae Durant suffered the consequences of this habit, as her iPhone charger caught fire with the phone resting on her bed covers. Consequently, the phone overheated and the entire room became engulfed in flames.
Another instance saw a father-of-three from Sunderland in the UK, Dwayne Blanchard, experience the dangers of unsafe charging after his 12-year-old son had been charging a Bluetooth speaker and his phone under his pillow.