Dealing With Falls: Tips and Advice
Falling is the most common cause of injury to children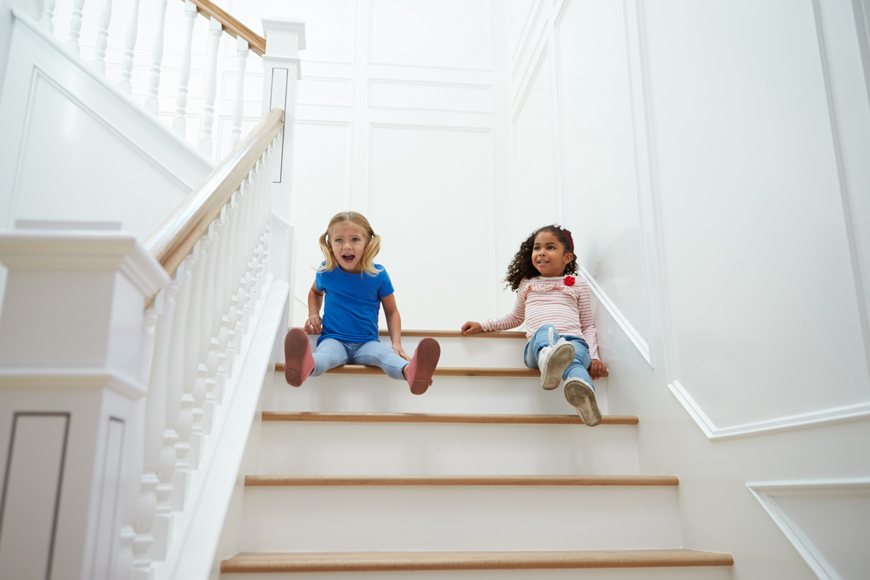 Falls are the most common cause of accidental injury to children and young people with stairs being the number 1 culprit and are most common in children under 5.
A baby's skull isn't 'fused' at birth. This leaves a very soft spot on top and serious falls can cause lasting injuries.
Many falls happen because young children take their parents by surprise. They didn't realise their child could do a particular move yet- such as rolling, turning over, crawling, climbing or standing.
Once a baby can crawl, they can climb- including on furniture pushed up against windows.
Safety Tips
Stay one step ahead of your child, so their next move doesn't take you by surprise!
Change your baby's nappy on the floor. Babies can roll and wriggle off beds or changing tables in seconds - even very young ones.
Don't put your bouncing cradle or baby car seat on tables or work surfaces. A baby can wriggle and bounce them off the raised surface.
Hold onto the hand rail when carrying a baby or small child down stairs. And keep stairs clear of clutter.
Watch out for signs that a baby is starting to crawl. Fit safety gates to stop them climbing stairs or falling down them. You can use safety gates until children are about two years-old.
Teach young children how to use stairs safely and supervise them while they learn. Also teach them never to play on stairs.
Board up any gaps in horizontal banister rails, as they are easy for young children to climb up.
As babies learn to walk they are very unsteady. So fit soft corners on low tables.
Use a five point harness to stop a baby falling from a highchair or pushchair.
Don't use the top bunk of bunk beds for toddlers or young children- they are only suitable for children over six years-old.
If you have vertical banister rails on your landing that are more than 6.5cm apart, you also need to board these up. Babies can squeeze their bodies, but not their heads, through a gap this small. And then become trapped by their heads.