Here's what to look for in a Nursery in Dubai to ensure your child's safety.
Posted on
11 November 2018
|
Last updated on 11 November 2018
Choosing a nursery for your child in the UAE is a big decision, with a plethora of approaches and curricula, differing standards of facilities and teaching practices from all over the world. For many parents, making this decision can be difficult.
School Nurse, Kate Lyon, from MindChamps Nursery explains an often overlooked but very crucial point to look for: hygiene practices and infection control.
Selecting a Nursery
Nurseries can be a wonderful place for your little one to develop their language and social skills, independence and confidence, and to get used to routines and structure in preparation for primary school. There are enormous benefits to your child attending a good quality nursery that will support them in their future education and development.
SEE ALSO: Welcome to MindChamps Nursery in Dubai
It is important to keep in mind, however, that hygiene practices vary enormously from nursery to nursery, and that this should be a key area to look at when selecting an early years setting for your child.
Nurse Kate's Important Points
What is the nursery's protocol on sickness and are the children monitored frequently? The most commonly notable tell-tale sign that a child is fighting infection is a fever; a temperature of 37.8C or above can be a red flag that something is not quite right with your little one.

At Mindchamps Nursery, we do not leave detecting a fever to chance. As each child enters the nursery, our state of the art child-friendly temperature scanner automatically takes their temperature. Any child with a high temperature is asked to return home to rest and may return 24 hours after the fever has subsided.

Are outdoor shoes worn in the classrooms and indoor play areas? Shoes can bring in all sorts of dirt and germs and children are most at risk of picking these up as they like to play on the floor and often try to put objects in their mouths.

MindChamps Nursery Al Safa is a Shoe Free Zone. Our staff and little champs are asked to wear comfortable slipper socks when inside and leave their shoes in our shoe wrack. Parents and visitors are provided with hygienic disposable shoe covers should they wish not to remove their shoes upon entering.

What is their cleaning regimen? A Nursery with robust policies and procedures in place will not hesitate to share what they do. Do they have full time cleaning staff or are the Classroom Assistants responsible for the cleaning?

At MindChamps Nursery Al Safa, we have two dedicated specialized BIC trained cleaners who ensure the nursery is sparkling clean each and every day. We follow a thorough cleaning schedule, using nursery safe cleaning products, and following our own strict health and hygiene procedures.

How often are learning materials and toys sanitized? This should include soft toys and play matting also. It is particularly important to pay attention to soft toys, especially in the Baby and Toddler age groups as items will likely have contact with the children's mouths.

At MindChamps Nursery Al Safa, our toys and learning materials are sanitized daily using easy to use specialized baby-safe sanitizing products. This ensures that carrying out this procedure daily is realistic and manageable for our staff so that we have a clean and safe environment at all times.

Bathrooms and changing areas should be one of the cleanest parts of the Nursery. Make sure you go and look at them to see the condition they are in. Nappy changing stations should be cleaned after each child, using Dettol or a similar disinfecting liquid. The correct resources such as disposable gloves and aprons should also be present and available.

At MindChamps Nursery Al Safa, our washrooms are impeccably clean and fresh smelling. As well as the obvious hygiene reasons for this, we also want to ensure our little champs feel happy using the washroom and have a positive experience when potty-training. Our specialized cleaners do a full and thorough sanitization of the washrooms multiple times a day, with any spills cleaned immediately after the washroom is vacated.
We encourage you to visit MindChamps Nursery for yourself to experience the very highest standards in health and hygiene practices. We believe your little champ should be at their happiest and healthiest to truly benefit from this champion early learning environment. Book a nursery tour by calling 04 383 5222 or email us on [email protected]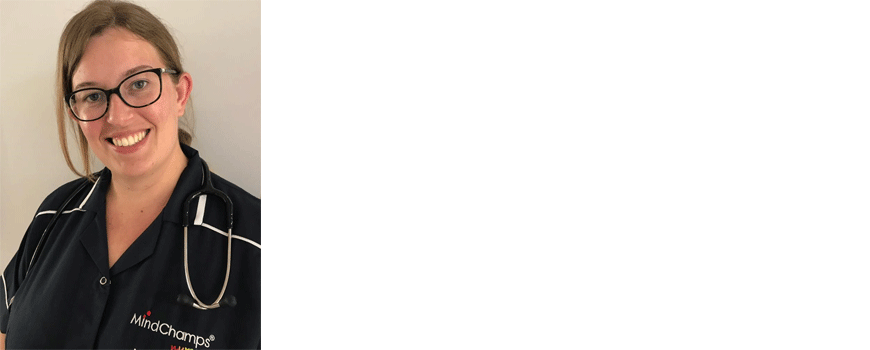 Kate Lyon
School Nurse
MindChamps Nursery Al Safa