Learn why Kodaikanal International School is a school the world needs.
Posted on
6 November 2017
|
Last updated on 10 December 2017
Founded over a century ago, Kodaikanal International School (KIS) is an independent, residential (K-12), International Baccalaureate (IB) school in the beautiful Palani Hills of Southern India. In this tranquil setting, KIS continues to educate young people from diverse cultures and backgrounds to become strong leaders in the new millennium. We do this through a rigorous, broad-based, college-focused curriculum that emphasizes arts, sports, social and environmental programs. The school is intentionally set within a community so that our students can develop based on the values of love, grace, compassion and service at the core of Christian teaching.
How We Learn
KIS has articulated an intentional philosophy of education directed towards the development of global citizenship and based on care of the individual. The central core of KIS programs is a holistic approach to the individual student and the knowledge and understanding of the benefits of exposing young people to a wide variety of experiences in a safe and structured learning environment.
As our Principal, Corey Stixrud, once said: "Learning happens when we learn directly about a new culture…not from a textbook but from our roommate, or a new friend. Learning grows out of our successes and our failures. It happens when we study, work, talk, play, pray, share, reflect, argue…and when we make up. Granted, it doesn't happen all the time, but a community that is imbued with the spirit of learning finds that learning is an ongoing continuous process."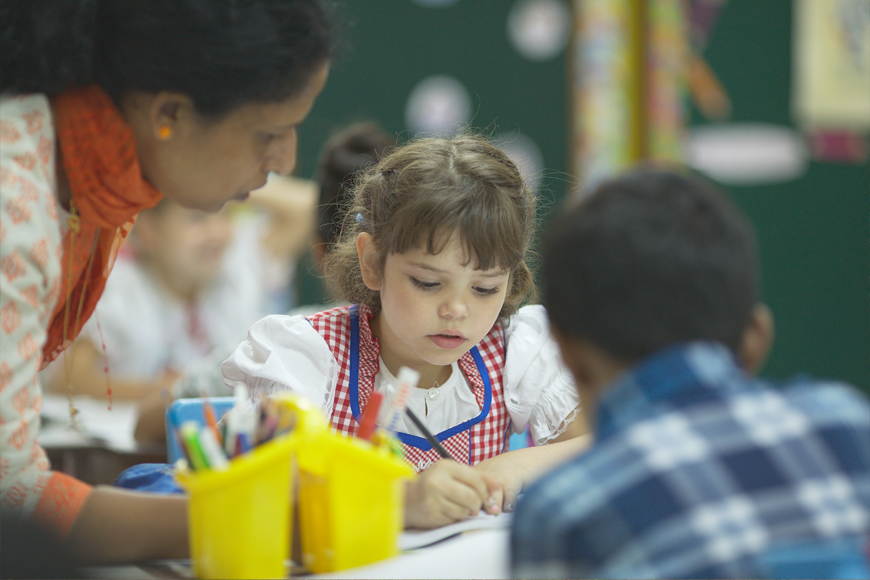 Academic Program
We offer a rigorous and accredited academic program to all our students. Grades K-5 follow the Primary Years Programme of the International Baccalaureate (IB); Grades 6-10 follow the Middle Years Programme of the IB and Grades 11-12 receive a KIS high-school diploma that is accredited by the Middle States Association of Colleges and Schools as well as the Association of Indian Universities, allowing students to enter American and Indian universities directly. A majority of students in Grade 11 and 12 opt to take the full IB Diploma Programme as well.
Service Learning
The KIS Social and Environmental Experience program aims to blend a comprehensive classroom teaching program with a variety of community-oriented activities that provide students with abundant opportunities for personal growth, enhanced civic awareness, and a progressive global outlook in line with the KIS vision and mission.
 
Classroom teaching focuses on thinking globally on issues of economy, environment and society and acting locally to bring about change in ourselves and our communities. The emphasis is on sustainability and empowerment of individuals and societies. Students are encouraged to develop an approach of mutual and reciprocal interaction with the community.