Here's a complete guide to whale shark sightings in Dubai and what to do if you see one
Posted on
5 August 2018
|
Last updated on 14 January 2020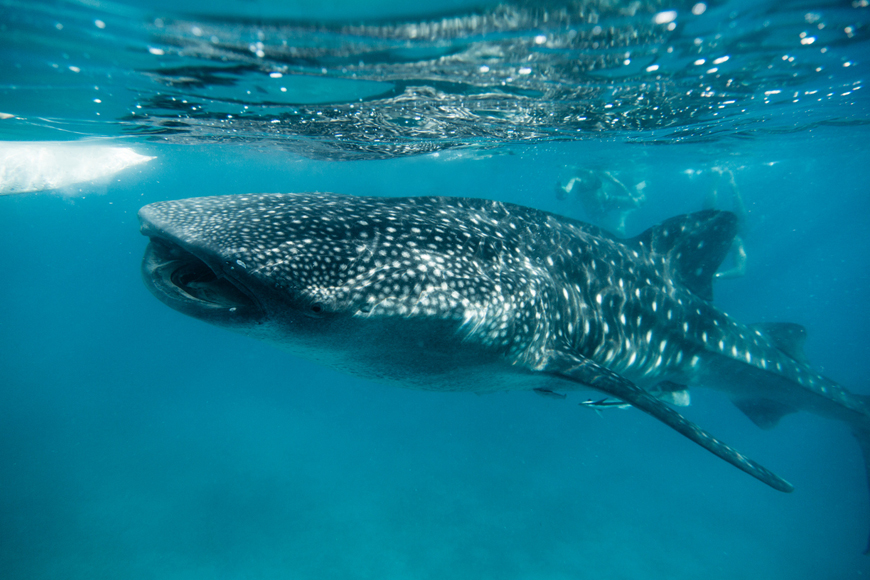 Every year, sightings of whale sharks are reported around Dubai as these gentle giants wander into areas of water across the city.
With sightings of whale sharks in Dubai Marina and Dubai Creek over the year, it's no surprise that residents here become rather excited over footage and images of these fish in Dubai's waters.
But during the excitement of viral videos of whale sharks in Dubai, it's important to remember that these vulnerable creatures are actually decreasing in population across the planet. In fact, these carnivores are not suited for these shallow waters, and instead any Dubai resident wishing to witness whale sharks in their natural habitats should consider scuba diving off the coast of the UAE.
SEE ALSO: 10 signs you live in Dubai Marina as an expat
They're the largest fish in the sea, and can range from 18 to 32.8ft and weigh up to 20.6 tons! In fact, an adult whale shark is equal to the size of a bus.
Fortunately for most divers and other sea-dwellers, the whale shark's diet consists of primarily plankton. As filter feeders, they scoop tiny plants and animals up, along with any small fish that happen to be nearby. Whale sharks are harmless to humans.
Why do whale sharks come to Dubai's waters?
Whale sharks in their natural habitat can be spotted off the coast of the UAE, often by scuba divers and boaters. This is because they prefer warmer waters, like the temperatures found in the Arabian Gulf.
Finding these gentle giants in the open water is a thrill in its own right, but when a small whale shark drifts into Dubai's shallower waters – the news tends to go viral on social media.
It is common for juvenile whale sharks to wander up waterways such as Dubai Marina and Dubai Creek, and when this occurs, rescue operations are sometimes launched to guide the whale sharks back to the Arabian Gulf.
The latest case involved the UAE's Ministry of Climate Change and Environment (MOCCAE), the Dubai Police and the Marine Environment Protection Association (UAEMEPA), who all collaborated to rescue a whale shark that was lost in Dubai Creek.
SEE ALSO: Dumping your pets in Dubai - a complete guide for pet owners
Previous advice from marine experts, like Dr. David Robinson who runs a shark-spotting site, sharkwatcharabia.com, has explained how the lights of Dubai's coast can attract them.
Once lost, baby and juvenile whale sharks can become scared, increasing stress levels in these cases and thus authorities take the necessary precautions to help guide them back to where they should be.
Different locations of whale shark sightings in Dubai
Whale sharks in Dubai and the UAE tend to be sighted in the following locations, and have been previously spotted:
in Dubai Marina
in Dubai Creek
Palm Jumeirah
Jumeirah Fisherman's Harbour
Fujairah's coastal waters
Coast of Ras Al Khaimah
Abu Dhabi's coast
What to do if you see a whale shark in Dubai
If you sight a whale shark where it isn't meant to be in Dubai, there are people who you can call to help or let them know for research.
As is anyone's nowadays, your first instance would be to snap a video and share it on social media – but bear in mind, that the whale shark may be lost and in distress, and thus may require professional help in guiding it back to its correct course.
Who to call if you see a whale shark in Dubai
The Dubai Council for Marine and Maritime Industries (DCMMI) - +971 4 520 8888
The United Arab Emirates Marine Environment Protection Association (UAEMEPA)
Dubai Police on their non-emergency line, 901
UAE Ministry of Climate Change and Environment (MOCCAE) - +971 2 444 4747
Are there whale sharks in Dubai aquariums?
No, there are no whale sharks in either Dubai Aquarium in The Dubai Mall, or in The Last Chambers at Atlantis, The Palm.
Back in 2008, a whale shark – later named Sammy – was rescued from a lagoon in Jebel Ali, and nursed back to health within the hotel's aquarium attraction. But Sammy was later released back into the waters of the Arabian Gulf.