18 Ways to Entertain a Child on an Airplane
With easy travel games, products and creative ideas, you and your kids will enjoy your next long flight without the fuss!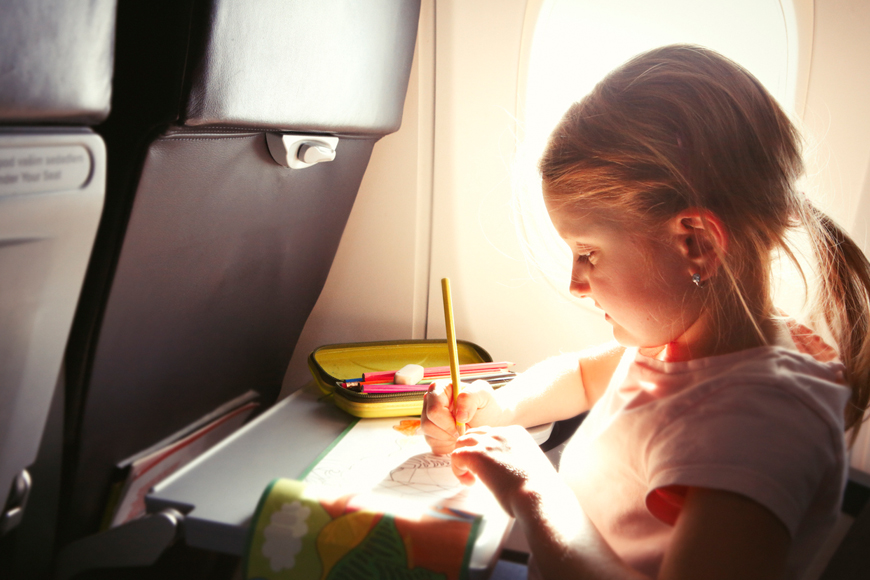 It's a daunting thought: dealing with an energetic toddler during a long flight abroad. Thanks to our expatriate lifestyles, this means flying happens more often than normal as we head to visit family across the world.
And with some airlines banning electronic devices recently on international flights, parents have been left panicking over how they'll keep their little ones entertained.
There's no need to worry though... All you need to do is keep this list safe somewhere, for whenever you need inspiration for kids entertainment on an airplane. There's 18 brilliant ways to help pass the time, without annoying other passengers or running into airline restrictiions.
So pick your favourite, lightweight options from this list and enjoy your flight.
1. Play a gentle game of catch with a soft ball, or a mini Koosh ball
2. Surprise them twice with a new t-shirt... That they can colour in themselves, like this lovely jungle one
3. Buy small, inexpensive activity books that have stickers, paper dolls and dot-to-dots
4. Bring a deck of cards, or even an Uno pack that will provide hours of entertainment
5. Interactive books like Where's Wally and I Spy are easy distractions
6. Tell a fairy-tale story with finger puppets to them
7. Keep little fingers busy with a sheet of bubble wrap, or even a box of plasters
8. Pretend to fish with a stick, string and dowel... Use post-it notes as 'fish'
9. Buy cheap toys and wrap them up, surprise your kid(s) with one every 30-60 minutes
10. Stock up on some gel window clings so they can decorate the plane's window
11. Take felt shapes of different colours and sizes so they can create their own piece of art
12. Bring tin foil, so your kids can make their own sculptures
13. Play who's-that-relative with pictures of Grandma or their cousins inside plastic sleeves for protection (they're lighter too)
14. Rub-on tattoos will no doubt ignite their curiosities
15. Perform magic with invisible ink colouring books, available at most book stores
16. Co-author a book with your child: write their story, and let them be the illustrator
17. Snacks that take a while to eat help, like raisins
18. And walk! If it's safe to do so, have a wander up and down the plane with your little one so they can explore
Do you have any other ideas? Comment below to share them with us!