Oman has recently been added to the international surfing map, however the seas of Oman have been surfed by ex-pat for years.
Posted on
18 July 2013
|
Last updated on 11 December 2017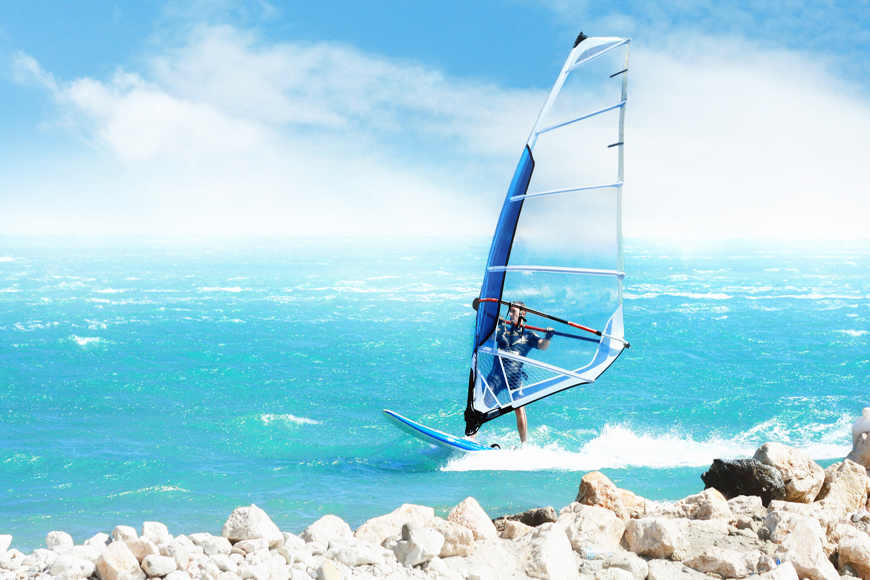 Windsurfing can be said to straddle both the laid-back culture of surf sports and the more rules-based environment of sailing. Although it might be considered a minimalistic version of a sailboat, a windsurfer offers experiences that are outside the scope of any other sailing craft design. Windsurfers can perform jumps, inverted loops, spinning maneuvers, and other "freestyle" moves that cannot be matched by any sailboat. Windsurfers were the first to ride the world's largest waves, such as Jaws on the island of Maui, and, with very few exceptions, it was not until the advent of tow-in surfing that waves of that size became accessible to surfers on more traditional surfboards. Extreme waves aside, many expert windsurfers will ride the same waves as wavesurfers do (wind permitting) and are themselves usually very accomplished without a rig on a conventional surfboard.
Oman has only very recently been added to the international surfing map, however the seas of Oman have been surfed by ex-pat and Dubai residents for years. While the air may be dry and arid the water certainly isn't and the monsoon season bring some south-west swells accompanied by powerful winds making wind surfing an adventurous option for sport in the Sultunate.
And it isn't boring! There are a quite a few localities where one can choose to windsurf along the coast of Oman, if you prefer a cooler climate the island of Mesirah offers cool nights and days that are not as scorching as the rest of the Gulf. A favoured spot for windsurfing is Kazhit which is relatively safe but if you are experienced and after a gnarly surf then Hagal is for you, which has bigger waves and stronger winds. However you have to know what you are doing as there is no beach and the rocks are covered in shells with jagged edges.
Oman's coastline is vastly untouched and has a lot of potential for new wind surfing spots to be discovered. All it takes is a willing individual, a surfboard and a tent and you could have the most inexpensive adventure holiday right in the Sultunate itself. Get surfing!! There are plenty of international companies that offer wind surfing holiday packages in Oman, a quick Google search can help you find them, however it is more difficult to find locally based wind surfing companies as the sport is not as popular as it once was due to the rise in popularity of kite surfing.